August 17, 2019 - 136 views
| | |
| --- | --- |
| Genre | country, classic country, old country, rockabilly, faron young |
Faron Young (February 25, 1932, near Shreveport, Louisiana – December 10, 1996), was an American country music singer, predominantly in the honky tonk genre.
Starting off singing at the local Optimist Club, Young was discovered by Webb Pierce, who brought him to star on the Louisiana Hayride radio program on KWKH in 1951.
He was drafted into the Army in late 1952, just after he was signed to Capitol Records. Nicknamed "The Hillbilly Heartthrob" and "The Singing Sheriff," he had many hits including:
"Young Love"
"If You Ain't Lovin' (You Ain't Livin')"
"Live Fast, Love Hard, Die Young"
"Sweet Dreams"
"Alone With You"
"Hello Walls" (written by Willie Nelson)
"It's Four in the Morning" (written by Jerry Chesnut).
"Here I Am In Dallas"
"I've Got Five Dollars and It's Saturday Night"
Young made several appearances during the late 1950s on ABC-TV's Ozark Jubilee.
His #1 country hit "It's Four in the Morning" was written at his request as he was recuperating from a serious automobile accident in which he suffered head injuries. His tongue had been partly severed in the accident, and it took him several months before he could regain normal speaking ability. He had particular trouble with the "s" sound in most words, so he asked for a song which largely avoided that sound as his comeback effort.
Faron Young's band, the Country Deputies, was one of country music's top bands, and toured with him for many years.
Young co-founded, with Preston Temple, the Nashville trade newspaper, The Music City News.
Young died at the age of sixty-four of a self-inflicted gunshot wound. He had been in failing health when he took his own life.
Legacy and influence
A performance video clip of "It's Four In The Morning" was the first video to air on CMT when it first launched on March 5, 1983.
In 1985, the country singer inspired homage from British rock group, Prefab Sprout, whose multimillion-selling album, "Steve McQueen" contains the song "Faron Young." The song has the refrain: You give me Faron Young four in the morning / Forgive me Faron Young four in the morning…"
In 2000, he was posthumously inducted into the Country Music Hall of Fame
In the comic strip Peanuts, Frieda's cat was named "Faron" after Faron Young, of whom Charles Schulz was a fan.

Worked with Webb Pierce on the Louisana Hayride in 1951. First recorded with Tillman Franks & his Rainbow boys in 1951. Went solo in 1952. Appeared in the 1956 movie "Hidden Guns" and got his nickame "The Young Sheriff", and his band name, "Country Deputies" from that movie. Also appeared in the movies, Stampede, Daniel Boone, Raiders Of Old California, and That's Country.
Founder and one-time publisher of the Music City News in Nashville. First charted song "Going Steady went to #2 on the Country Charts in 1953. Put 79 songs into the top 40 of the country charts from 1953-1978. Had 5 #1s. Last # 1 was It's Four In the Morning in 1971. During the '90s, Young was stricken with a debilitating emphysema. Depressed by his poor health, he shot himself on December 9, 1996, and passed away the next day Source Joel Whitburn's Billboard Book Of Top 40 Country
Source
Top Tracks
1
Hello Walls
2
It's Four In The Morning 3
Live Fast, Love Hard, Die Young
4
Alone with You
5
If You Ain't Lovin'
6
Goin' Steady
7
Wine Me Up
8
If You Ain't Lovin' (You Ain't Livin')
9
Sweet Dreams
10
Country Girl
Top Albums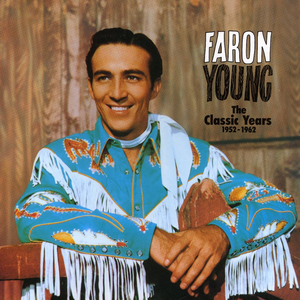 The Classic Years 1952-62
tracks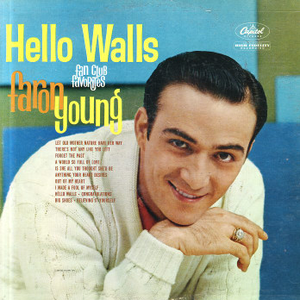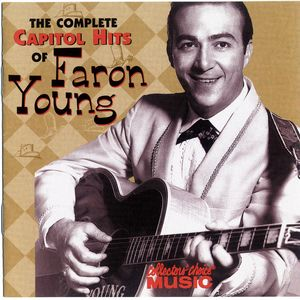 The Complete Capitol Hits Of Faron Young
tracks